The Perfect  Holster
ANY Style.   ANY Options.   ANY
 Gun.
"Current Lead Times for Production"
Elite Quick Ship Holsters =   7 to 10  Days*
All Other Custom Holsters ( including Lights / Lasers )  = 6 – 7 Weeks*
*Lead times are an estimation and can fluctuate slightly*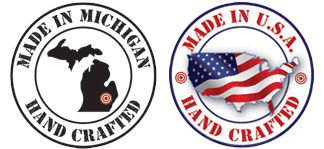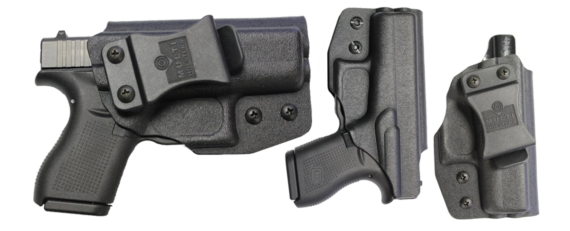 Elite Quick Ship Holsters
Finally, a custom holster for your Firearm without the wait time of a custom.
Our Difference
We make EXACTLY what you need!
Tired of spending countless hours on-line searching for a holster that can accommodate your customized weapon? MultiHolsters.com was built from the ground up based on just that same frustration.
Each holster is hand-crafted to exactly meet the specifications of your weapon configuration. We take every detail into account including: belt size, weapon cant, rail type, attachments and mounting position. The end result is a perfect holster for your needs. 
Made entirely from Kydex™ . Our hand crafted holsters are constructed 100% in Michigan, USA. using the exacting quality standards needed to ensure  lifetime loyalty from our customers.  
Our proprietary process allows each holster we make to be form fitted around actual weapons or exact weapon molds using your specific modifications. The end result is an exact fit for youre and proper retention.
Multi Holsters are designed for off duty law enforcement or concealed carry users and are molded to fit your body style. We designed our holsters to hold the weapon as close to the user's body as possible maximizing comfort and  concealment.
View our existing inventory. Let one person's error mean savings for you.
We are your light and laser specialists. Our talented team of fabricators work tirelessly to ensure that each holster meets our exacting fabrication standards, ensuring that Multi Holster remains the holster of choice for off duty law enforcement and concealed carry use.
Made entirely from Kydex™
Hand crafted in Michigan, USA
Made of .08″ thickness with belt loops made of .08″-.105″. (allows for durability and form holding to make re-holstering with one hand a breeze.)
Each holster is form fitted around actual weapons or exact weapon molds to ensure exact fit and proper retention.
Multi Holsters are designed for off duty law enforcement or concealed carry users and are molded to fit your body style, polished edges for maximum comfort next to the body, area of the body where carried (if specified), belt size, belt loop selection, cant, and handing.
Designed to pull weapon as close to body as possible for maximum concealment.
Many Custom Kydex™Color Swatches available with more being added regularly
Endorsed by Viridian as a preferred custom holster maker for Viridian ReactorTM Laser Holsters and ECR Instant-OnTM Activation.
Quality service is just an order away
A few words from our Happy Customers
I've long searched for a polymer IWB for my particular revolver and its particular barrel length. Multi Holster came through on both counts as well as accommodated for a personal modification I desired for its belt clip location. The finished product arrived 2 weeks ahead of expectations. The holster exceeded my expectations in respect to Multi Holster's understanding and execution of my "personal modification" as well as in their close and thoughtful attention to details common and expected, and those details uncommon and not.

The holster has a minimal overall footprint that adds about 1.5mm total width to gun. My gun's grip holds tight to my body, and it's an easy one-handed fitment or removal of holster from belt. Common to premier holsters of this ilk it's feather light, affords first rate gun protection, effortless indexing/re-holstering, adjustable passive retention, and is impervious to sweat, an unforeseen downpour or accidental dunking.

Thanks to Multi Holster my search is now over.
I have been involved with firearms deployment and training for over 30 years from Royalty protection to good old street strikes. I have seen equipment fads come and go. When the first kydex come on the scene I dismissed it as none contender, "that won't replace leather".

Now I am about to rave about kydex holster from Multiholster.com. I received a holster from Multi Holster to try their 2 in 1 for a Glock.

I've seen kydex holsters that look like they have been constructed from bondo. This multi holster was well constructed with balance of kydex thickness, functionality and great shape for contouring the body. The holster was nicely finished, the lines are crisp with the edges rounded over with no sharp points.

For me functionality must go hand in hand with comfort. It's no good having the greatest and latest if uncomfortable to wear or becomes uncomfortable, all you are going to do is show out. This was not the case, I wore the holster for long durations standing and sitting, with no issues. What's great about the system you have adjustment by moving the belt loops on both sides of the holster.

Tension, nailed it with two tension screws, giving the ability to adjust the tension to suit the carrier's needs. I found once I had the tension adjusted to suit my requirements, there was no readjustment needed. Retention was positive and retained the pistol during the most demanding training scenarios including a vehicle rollover drill, without making the draw a physical feat to combat the retention. The retention screws did their job and maintained the settings even after hundreds of draws and re-holsterings.

The sight channel was well formed providing plenty of room for my aftermarket sights. I am currently using Warren Tactical – Sevigny. There is ample, well constructed room for this optic front sight.

Multi Holsters are very motivated to evolve and enhance their products to be a leader in the industry. I have spoken to them on several occasions on development they are always keen to hear from an end user, to take their holsters to the next level.

If you are looking for a solid holster with great functionality and comfort, then Multi Holster must be high on your list.

Andy Tubb

LE Program Manager Panthera Training Center

Panthera is 800 acre training facility providing high risk training to Federal, Military and Law Enforcement. www.pantheratraining.com
As a review writer, I see a lot of guns and a ton of gear. Here are some of the highlights from 208-10. Knives, bags, optics, cases–the best of the best.

Multi Holsters.  I can't say enough about the versatility of Tony Catner, the brains behind the Kydex creations at Multi Holsters.  When Colt re-released the Mustang a couple of years back,  I bought a stock leather IWB from one of the major makers, and the new Mustang just didn't fit right.  I went on a search for a holster.  A good holster.  Catner was one of the first selling Kydex holsters for the new version, and the holster he sent was perfect.
Character, Sincerity, Effort, Etiquette, Self-Control = the 5 Maxims of Hojutsu
 "Check your 30/360 often"

Defensive Solutions, LLC Instructors perform drills and training with a MultiHolster Holster